Well, it's been a long time coming, but hey, better late than never. Here are my top 20 favorite records from 2013. Enjoy the list, lemme know what you think. :)
-DREW
20. High Diving Ponies - FACE BLINDNESS
On their 5th LP, High Diving Ponies makes what is (in my opinion) their best work yet. One of the first bands from my area I ever listened to, these guys continue to impress with their emotional mix of post punk/shoegaze and unrelentlessly attack your senses for the whole duration of this record. A strong kick in the teeth every time I listen to it, High Diving Ponies'
FACE BLINDNESS
is definitely deserving of the #20 spot on my list.
19. Panda Circus - Friendly Unicorn Campground Kingdom
It was about 2 and a half years before Panda Circus released their followup to
The Panda Magic Happy Fun Show.
In my opinion,
Friendly Unicorn Campground Kingdom
, while it doesn't retain the recording finesse of it's predecessor, still showcases the goofy yet emotional traits that made the first record so special to me and additionally, it's musically fun and bright. Perfect!
18. Black Host - Life In The Sugar Mines
A wonderfully strange record from Detroit drummer Gerald Cleaver's ensemble of all star jazz freaks, this very long experimental ride from Black Host is great from front to back. It's a bit challenging, and it's definitely not for everyone, but
Life In The Sugar Candle Mines
is easily my favorite jazz record from 2013.
17. Muscle Worship - Muscle Worship
Muscle Worship's very long awaited debut LP is everything I hoped it would be. This brooding and heavy post punk record captures the band's ability to perfectly mix emotion with pure brute force. Sean Bergman is definitely a fantastic vocalist and a remarkable guitar player, his use of the whammy bar catches me off guard every time I hear it. An amazing record from this beast of a band.
16. Heartscape Landbreak - Practitioners Of Light
The Appleseed Cast and Hospital Ships member Taylor Holenbeck's "side project" band Heartscape Landbreak has been one of my favorite Lawrence bands for quite a while. Their debut album
Practitioners Of Light
is as fantastic as I thought it would be. Beautiful, masterful ambient guitar and keyboard sounds that work perfectly to backdrop Holenbeck's powerful falsetto and his heartfelt lyrics. The emotional power of all of this LP's 8 songs combined make this album an amazing piece work.
15. Arrington de Dionyso's Malaikat dan Singa - Open The Crown
For the faint of heart, I do not recommend Arrington de Dionyso's music in any form. Whether he is recording with unique instruments in Indonesia, or playing bass clarinet improv pieces
over classic smooth jazz
, Dionyso makes some of the most sonically tormented sounds I've ever heard. Arguably, his most popular material is the things he's done with noise punk group Malaikat dan Singa. Dionyso creates Brian Chippendale mixed with Michael Gira and King Khan-esque vocals over blistering punk noisescapes with pounding drums and screaming guitars.
Open the Crown
is mesmerizing and disturbing, definitely a highlight of 2013 for me.
14. Daft Punk - Random Access Memories
Daft Punk's latest album is just so much fun. Definitely the album that I've danced to alone in my room to the most from 2013. And behind this grand veil of bright disco and funk influences is some instrumentally lush sounds and just an incredible use of older technologies. Daft Punk tried to do something different with things from the past, and it definitely paid off in the best way possible.
13. Touche Amore - Is Survived By
I was very surprised at how blown away I was by Touche Amore's 3rd LP. I had enjoyed the band's past work, but
Is Survived By
's unrelenting emotions surpassed all my expectations in grand strides. It's a post-hardcore masterpiece in my opinion that I would recommend to anyone who needs an amazing soundtrack to depression. Seriously, this album is Touche Amore's magnum opus out of their short but great discography.
12. Monster Bad - Freak King
Speaking of magnum opus releases, Monster Bad's
Freak King
is definitely my favorite release from this Long Island based project. It's hard to not see the massive effort from front man Chris Graci that was put into this record. It definitely pays off. Emotional, catchy, well recorded, and overall incredibly satisfying.
11. Pigeon Breeders - Oblique Temperatures
This incredibly strange and unique record coming from Canadian trio Pigeon Breeders captured my attention almost immediately. The musicianship between these 3 guys is really fantastic and they have a great deal of talent with improvisation. The pieces that make up
Oblique Temperatures
are beautiful, eerie and challenging in all the right ways. A sonic trip, to say the least.
10. James Blake - Overgrown
From the first time I heard "Retrograde", I knew that I was really going to like this album. I wasn't a big fan of the first album from James Blake, mainly because of the polarizing ice pick sounding treble that came from his use of vocoder, synths, and drum machines. Honestly, if that painful sounding treble wasn't in the end mix, I probably would've enjoyed the album more. But time and time again I try to go back and listen to that album and I just still can't get into it. I can definitely see why some people enjoyed it though. However,
Overgrown
feels like a more mature older brother to Blake's debut record. The glistening electronics and instrumentation are tightened up but still beautifully lush, James' vocals are incredibly memorable. It provides the strangely icy atmosphere of the first album but presents it with lush electronics that make it a more emotionally resonant and powerful album.
9. Wreikmeister Harmonies - You've Always Meant So Much To Me
Wreikmeister Harmonies' sophomore album
You've Always Meant So Much To Me
is basically one almost 40 minute track. This massive piece of music from JR Robinson's Chicago based collective encompasses the genres of metal, post rock, and drone. It's a sonically dense album throughout that pulls you in with it's pretty and eerie electronic drones and then surprises you and shocks you with the atmospheric metal jam towards its climax. A monolithic listening experience.
8. Brighter Arrows - Dreamliner
Brighter Arrows is the type of band who makes music that is the equivalent of being hit in the face with a hammer. This Chicago band's debut album is brutal and different than anything I've ever heard.
Dreamliner
took me by total surprise, and I just couldn't stop listening to it. The band's cathartic approach to post punk/hardcore is an auditory monster that just destroys everything in it's path. It's definitely not an album for the faint of heart, but if you can stomach and process it, I would highly recommend it. Just an incredibly unique record all the way around.
7. Carey Scott - Flint And Steel
Carey Scott's debut release is exactly what I had hoped for. After seeing him play 3 times, his songs just stuck like glue in my head. Cloud Dog's Jim Martin and Whatever Forever alum Rolf Peterman helped in the recording and production of the record, and they definitely did a perfect job at recording Scott's singer/songwriter tracks and keeping them very bare and stripped down. As far as instruments, it's literally just vocals and guitar, but the vocals are heavenly and the guitar picking is beautiful. They also used found sounds and field recordings perfectly and appropriately to enhance Scott's tracks. It's rare that the recorded versions of songs that I've loved and only heard in a live setting are immediately just as good as the live version. But Carey Scott absolutely made this transition beyond perfectly. Also, the live take "Bones In My Way" sounds initially out of place amongst the polished studio recordings, but it is actually one of the best decisions for this record. You can hear the sounds of cars and trains in the distance, it makes me feel like I've been transported directly into a house on Connecticut St. in Lawrence, KS with the guys from Whatever Forever and watching Carey play the song in person. That's a memory I hold close to my heart (I saw Carey play a house show once, opening for Spoonboy) and it just.... The nostalgia that the recording makes me feel is absolutely incredible. It pushes the album above and beyond amazing.
6. Hospital Ships - Destruction In Yr. Soul
Not much to be said about Hospital Ships' 3rd album. It's great. Jordan Geiger and friends really made a wonderfully cathartic record here. It's energetic, it's beautiful, and I thoroughly enjoyed it and still do. I don't listen to indie rock that often because of how safe and bland it can feel, but Hospital Ships' really make an effort to go above and beyond genre stereotypes. Fantastic record. Highly recommended. Yes.
5. My Bloody Valentine - m b v
My Bloody Valentine's long awaited 3rd album
m b v
took a pretty long time to grow on me, but I'm glad I took the time to listen to what it had to say. For me, it's definitely on par with their past releases and the 20+ year gap between this album and the band's seminal record
Loveless
really haven't seem to negatively effected My Bloody Valentine's sound at all. The innovators of shoegaze/dreampop prove that they are still the masters of the genre. It's pretty much a perfect comeback record, and I can't see many flaws in it. Great, great, great album.
4. Yuppies - Yuppies
Nebraska noise rock/post punk band Yuppies' self titled album is abrasive, to put it nicely. The jagged
sonic abuse these guys produce is absolutely brutal. While it is brutal, Yuppies' also pulls off the rare double card of not only making an abrasive and memorably violent musical experience, it's also incredibly catchy. Each guitar riff or sound that is on this record I feel like I can remember to a tee, all of front man Jack Begley's vocals just resonate in my head. It's like being struck by lightning and being totally knocked out and having a totally out of body experience. I love this record, it is noise rock at it's finest.
3. Dirty Beaches - Love Is The Devil
I do realize that Dirty Beaches' released this album as the second part of a double album combo and was released to the public as
Drifters/Love Is The Devil.
However, Dirty Beaches released the double records' two segments separately on his bandcamp page. I definitely love both records, but I really developed an emotional connection to
Love Is The Devil.
While it does require a certain frame of mind for me to fully comprehend this album, when I'm in said frame of mind, this record is beautiful. Alex Huang goes above and beyond his lo-fi crooner roots and proves he is capable of a lot more. This album, while undeniably simple when examined instrumentally, showcases Dirty Beaches' less-is-more approach to more emotional ambient tracks and it makes this record haunting and beautiful. It's truly incredible.
2. Many Moods Of Dad - The Consequence Of Trying
Many Moods Of Dad's debut record is rock music at it's finest. Everything about this album is brilliant; the drumming, the guitar playing, the basslines, the lyrics, the song structures, the vocals, the harmonies.... It's really a record of technical genius, but it also manages to affect me on an emotional level. It's not an emotional feeling of sadness or happiness.... For some reason it's fear. I've never listened to this album all the way through and not felt uneasy. This record has some quality that makes it... disturbing. Not in a sense that a lot of other albums on this list are disturbing.
The Consequence Of Trying
is actually incredibly catchy and accsessible for anyone. But by the same token, from the first song to the last, this album really gets to me. The first 3 songs are absolutely perfect. The 4th-12th tracks are really one 15 minute long epic. It is presented on record as 9 seperate tracks, but when played live Many Moods Of Dad plays these songs for the whole 15 minutes straight. This 15 minute long epic is one of the best rock pieces I've ever heard. It just feels so powerful. When the tremelo guitar opening of "Cerebrations" hits, I just feel like I've been through some sort of experience; some sort of event that has changed me, forever. And the fact that Many Moods Of Dad can make feel this way in just the short 22-minute span of this album is beyond incredible. I can't describe the sensations this album makes me feel, it's definitely earned the #2 spot on this list
1. The Flaming Lips - The Terror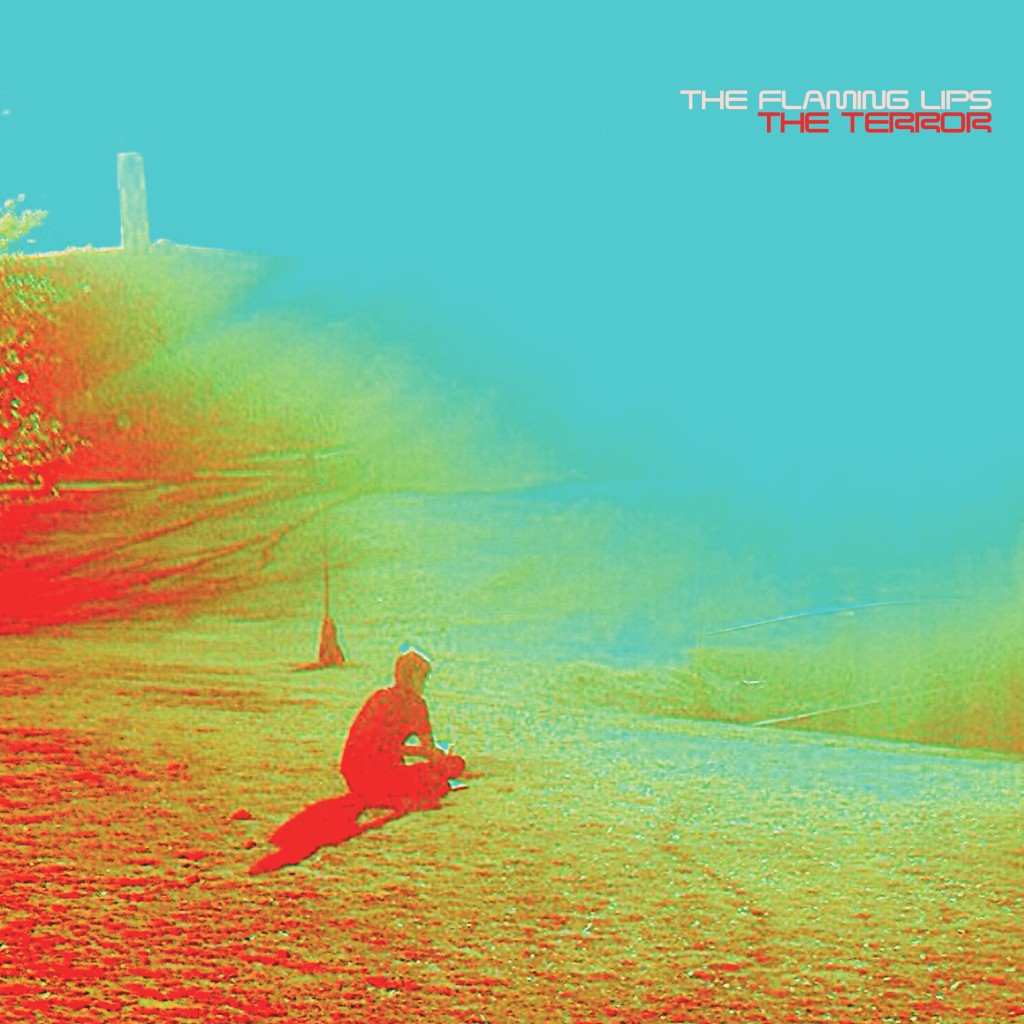 Part of me wishes that my top pick wasn't so predictable. Anyone who knows me and my massive love for The Flaming Lips' music probably could've seen this one coming. But I really can't lie to myself. The album from 2013 that has definitely affected me the most is
The Terror.
Never before have I encountered such a bleak, desolate, and depressing record, and especially one that is so unrelenting on the listener. Sonically, I love this album's pallete of dark, fuzzy synths and strange electronics. Steven Drozd's instrumental finesse really breaks new ground on
The Terror
, innovating totally new sounds and textures. As if his vintage stompbox experimentation on
Embryonic
wasn't admirable enough. The compacted layers of frigid instrumentation, and the hopelessly dreary vocal performances from Wayne Coyne and Drozd combine for a menacing beast of a record.
Embryonic
really changed the way I thought music could be played and recorded, the
Bitches Brew
-esque improv and noisy production fascinated me when I first heard it, and it continues to. It was almost impossible to imagine the Lips outdoing themselves, at least for me, after how amazing and personal
Embryonic
became for me. Thankfully,
The Terror
continues to see the Lips break new ground musically. This goes right up there with Lips records that changed my life like
Zaireeka
,
In A Priest Driven Ambulance
,
Embryonic
,
Clouds Taste Metallic
, etc. It makes me sad that this album really didn't get that warm of a critical response at all. However, the albums brutally nihilistic and depressing vibes truly do not let go. For some this can be viewed as a flaw. For me, it makes up one of the reasons I love this record so much and why I see it as an absolute masterpiece.
Other albums that I loved from this year
The Sluts -
Virile
Thee Oh Sees -
Floating Coffin
Jonwayne -
Cassette 3: The Marion Morrison Mixtape
Anamanaguchi -
Endless Fantasy
Cakes Da Killa -
The Eulogy
Ty Segall -
Sleeper
Kanye West -
Yeezus
Pond -
Hobo Rocket
Sky Ferreira -
Night Time, My Time
All Blood -
Carrier
Tape Deck Mountain -
Sway
Dubb Nubb -
Wild Dreamin'
Melt Banana -
Fetch
Pale Hearts -
Hollowtown
Marcus Eads -
Someone To Ride The River With
Terry Malts -
Nobody Realizes This Is Nowhere
Riot Meadows -
Titanium Coma Seeds
Netherfriends -
Kind Of Buzzed
Shigeto -
No Better Time Than Now
Four Tet -
Beautiful Rewind
Crystal Antlers -
Nothing Is Real
Kavinsky -
Outrun
Wooden Wand and The World War IV -
S/T