Alright, as summer goes faster and my Flaming Lips show experience grows closer, It's about that time when people are making their lists for their favorite albums of the year so far. Said time has come for me. Here are my top 25 records of the year so far this year [in alphabetical order]. And if you feel vocal against my opinions on certain albums that are/aren't on this list, leave a comment about. And do leave your list down below too. Here we go!
The Act Of Estimating As Worthless-Amongst These Splintered Minds//Leaden Thoughts Sing Softly
An album that feels equal parts inspired by children's music and The Moldy Peaches, The Act Of Estimating As Worthless released a very solid record of emotional folk tunes that resonated with me perfectly, and I continue to love it each time I return to it.
All Blood-Flood
This album's bombastic and loud production style is so interesting that it really sells this album. All Blood knows how to just explode your ears, even with just acoustic guitars on some tracks. It's not for everyone, but it's incredible to me.
BADBADNOTGOOD-BBNG2
These guys really have amazing musicianship, great production and just amazing consistency and catchyness. You have to listen to this album. I'll be honest and say that this album is really almost perfect to me.
Beach House-Bloom
A very beautiful record that just increases my love for Beach House. Bought me a CD copy.
David Crowder Band-Give Us Rest or (A Requiem Mass In C [The Happiest Of All Keys])
While this album has slightly lost it's effect on me, David Crowder Band's final album is easily a masterpiece for the band. There's really some amazing trracks and genre blending going on this album. And, do listen to the Sequence tracks. Those are AMAZING.
Death Grips-The Money Store
An abrasive ride through hip hop music that is incredibly abrasive and disturbing. But, at the same time, it's incredibly catchy. It's a rare record that actually does that somehow. I don't know how, but I consider that amazing.
DROPXLIFE-FURTHUR
A mixtape of very dreamy music that has been very nice to me when I'm trying to sleep. Highly recommended.
Dweller On The Threshold-Dweller On The Threshold
While style-wise, this record is very inconsistent, Dweller On The Threshold still made a record that in my opinion is very interesting. The production, the echo/reverb, and their playing style is all very appealing to me. The last few tracks are very dreamy.
Father John Misty-Fear Fun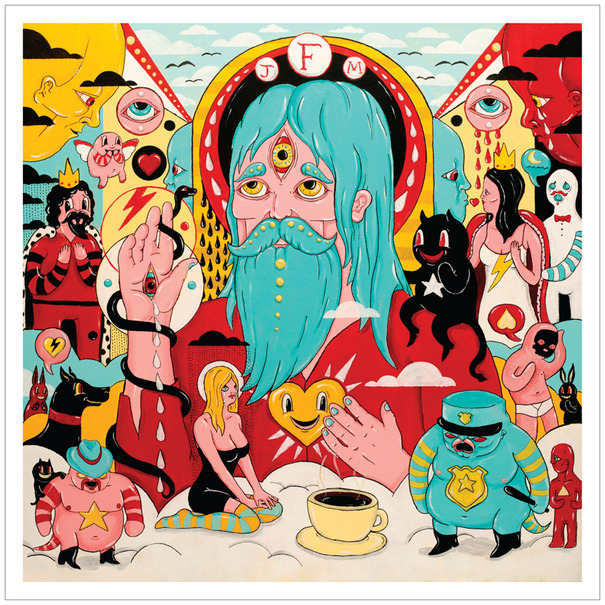 While J. Tillman is no Robin Peckinold, he still provides a secondary to the Fleet Foxes dominates sounds of modern beautiful folk music. This record is much better the further you go into it also. It took me a few tries to really, really like it but now I'm very impressed with it.
FAVRTSM-Tape I
I've been praising this artist for a while. FAVRTSM's debut tape is a trip through classical piano music who I could easily recommend me to anyone. The artist himself, Rafael Grafals, is now one of my close internet friends. His album is great and you need to listen to it.
The Flaming Lips-The Flaming Lips And Heady Fwends
I know this record probably isn't supposed to be on this list, but I've enjoyed this thing cohesively for a long time. I really like almost every single track on this album. Also, goin' to see The Flaming Lips today. :O
Gonjasufi-Mu.Zz.Le
This album's lo-fi production, R&B stylings and the odd vocals make it very memorable and I'm still fairly in love with this record. I was slightly put off by all of the negative opinions towards the record, but I'm back on board with it.
Heath McNease-Thrift Store Jesus
This release is easily Heath's most inventive album to date. The singer/songwriter elements are here, the rap elements are here, and just in general everything you need is here for a great and interesting release from this guy.
Hillary Hahn And Hauschka-Silfra
I adore beautiful classical music records, so this thing is right up my alley.
Himanshu-Nehru Jackets
This hip hop album has grown on me A LOT since I first listened to it. The beats on here are AMAZING. This album is another great step for the Brooklyn experimental hip hop scene. I haven't stopped listening to it at all.
Jack White-Blunderbuss
You knew this record would be on this list. As a Jack White fanboy, I'm required to love this thing.
Joey Bada$$-1999
As someone who never really experienced the boom bap era, this was a natural ear pleaser. The beat's on here are pretty great.
Jose Ph. Kony-Kony 2013
A very under blogged sample based album. Very calming, chilly, and odd.
mewithoutyou-Ten Stories
This album kinda fell out on me for a little, but with some re-listens I came back to it and loved it again. Mewithoutyou continues to be one of the best bands out there right now in post hardcore.
Recondite-On Acid
I didn't write about this record, but it's slowly been creeping up as a favorite of mine. A very minimalistic electronic record that is perfect for sleep. It provides a very bleak atmosphere that works perfect on a cloudy day.
Sigur Ros-Valtari
As a new Sigur Ros listener, I found this album very great. It's brightness, beauty and gloss is almost shocking at first. Post Rock doesn't get much better than this.
Torche-Harmonicraft
A metal record that is equal parts brooding, but also kinda poppy and easy on the ears. It doesn't require that much from you, and it is very easy to glide right through the whole record, but it's a very solid listen at the same time.
Trash Kids-Get Lost
A very grooving and odd dance/electronic album. It has some rather dark tracks, dancy tracks and some very disturbing tracks at the beginning and the end of the album. I'm still lovin' this album a lot, and I'm jammin' on my cassette copy a lot.
Ty Segall Band-Slaughterhouse
I've been spending a few days on this LP, and it's jammin. Not every track is "Wave Goodbye", but I'm really loving this album as a cohesive listen. My opinions may change over time considering my short amount of time with the album, but I don't think it'll happen.
Willis Earl Beal-Acousmatic Sorcery
An abnormal lo-fi blues record that is a very nice listen for me. I'm a sucker for this kind of music, so it's a natural pick for me. I bought the CD and I've been listening to it ever since.